The orchestra is renowned for its high level, excelling in the style of the late romantic and early twentieth century. Together with the Netherlands Chamber Orchestra, they have been the principal orchestra of the Dutch National Opera for more than 30 years and are considered one of the best opera orchestras in Europe. The Royal Concertgebouw in Amsterdam is the home venue for concerts, and from the 2021-2022 season, Lorenzo Viotti will be the new chief conductor.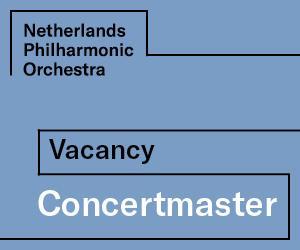 Profile
The concertmaster of the Netherlands Philharmonic Orchestra is a top violinist with inspiring leadership qualities, both on and off stage: a pleasant and enterprising partner for orchestra members, chief conductor, guest musicians and management.
We welcome your application!
Learn more and apply here: https://orkest.nl/en/vacancies/concertmaster-nedpho
The closing date for applications is: May 24, 2021