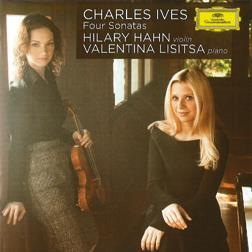 The Strad Issue: January 2012
Description: A welcome collection of Ives's complete sonatas for violin
Musicians: Hilary Hahn (violin) Valentina Lisitsa (piano)
Composer: Ives
Though Charles Ives's violin sonatas are central to the composer's chamber music, discs containing all four have been few. The booklet relates that in the past three years Hilary Hahn and Valentina Lisitsa have played the sonatas in tour programmes, and their attempt to introduce a different approach to each performance resulted in a deep empathy with the music. They do not hide the disjointed nature of the First Sonata's outer movements, but contrast them with their hymn-like approach to the central Largo cantabile. The picture of Autumn, which opens the Second Sonata, has a welcome urgency, and throughout the disc Hahn generally uses faster tempos than Curt Thompson in his much recommended rival recording (Naxos).
I prefer Thompson's soft-grained feeling of meditation in the first movement of the Third where Hahn needs to relax at times. That said, her use of dynamic contrasts is more pointed. The Fourth Sonata, subtitled 'Children's Day at the Camp Meeting', returns to that familiar Ives theme, with Hahn capturing the folksy mood to perfection.
In everything, Lisitsa works in perfect accord with Hahn, and my only reservation rests with the rather plummy recorded sound that could have benefited from refocusing by equipment controls. If forced to make a decision, I would go for Hahn if you don't already have Thompson.
DAVID DENTON