Just like anyone in a close working relationship, teachers and students sometimes have to have difficult conversations. Vicky Hancock finds out how pedagogues handle some of the trickiest topics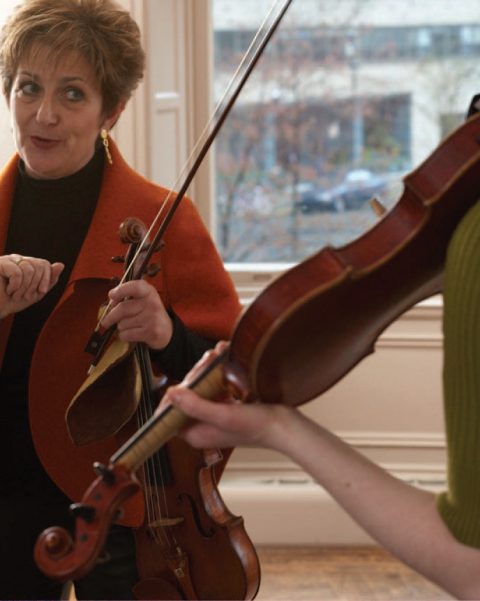 The continually evolving partnership between teacher and student is complex. It requires compromise and understanding – rather like a marriage or relationship. And during their time together, both have to be able to deal with the issues that arise and talk them through.
Telling a student that music is not the right career path
The most difficult conversation happens when a student wants to make music their career, but the teacher feels this is impossible. This has to be approached sensitively. 'I've never said, "You ought to give up now because this isn't something, in my opinion, that you are going to be able to do at a high professional level,"' says viola player and Juilliard teacher Toby Appel. 'But I have said, "You have to examine what you really want. If there are other things that interest you, you might want to pursue them. If you want to play for fun, that's great (and I'll work with you), but in my opinion you're at a disadvantage," and I have then given my reasons. I'd conclude with "You can always find a way to have music in your life, perhaps not at the level you may want, but in a second- or third-tier orchestra, a community orchestra or chamber music with friends."'
Karine Georgian, cellist and teacher at the Royal Northern College of Music in Manchester, UK, has taken a similar approach. 'No one has the heart to say a student should just stop and do something else,' she says. 'The best approach I have found is to sit down with them and ask what their ideal career scenario is. Then we talk through their expectations and discuss the future. They may say they want to play chamber music, for example, and you can talk about playing for fun or making money, and so on.'
Ida Kavafian (pictured), violinist and violist and teacher at the Curtis Institute of Music in Philadelphia, adds, 'In this situation explain that you can have an incredibly fulfilling life with music without making your living from it. I have a very fulfilling hobby. I breed and train purebred dogs, Hungarian vizslas, but it's not how I make my money.'
Although this kind of conversation is tough on both parties, it can be for the best, as violinist Pierre Amoyal found while teaching at the Paris Conservatoire. 'After several months I felt one pupil's playing didn't equal his intelligence and his talent for other things,' he remembers. 'So I plucked up my courage and said I thought he might be more successful doing something else.'
Amoyal's student did not take the conversation well. 'I think at that moment, if he'd have had a knife, he would have stabbed me in the heart,' he admits. But there was a happy ending. A few years later, on a flight to Mexico, a steward brought a bottle of champagne over to Amoyal. When he asked who had sent it and why, he was told that the captain welcomed him on board – it was his former student. 'It sounds very dramatic, but thank God I told him the truth, and he was brave and intelligent enough to change direction. Sometimes this is what the teacher has to do. We are here to make it possible for students to be successful,' he says.
Telling a student a competition is beyond his capabilities
A student's desire to enter a competition can also lead to some potentially awkward discussions. According to Georgian, some students don't understand the level required at a particular contest: 'They don't realise it's beyond their capabilities. While it's good to get experience, the idea isn't about going to have a nice time. You want to win.' Georgian says the key is persuading students not to enter without diminishing their confidence. 'Discuss your reasons against the competition in as positive a way as possible,' she advises. 'Tell the student, "You have these problems that we need to resolve before you can enter." Try to get them to focus on things that may be stopping their development. Then suggest entering next time, or another competition.'
Kavafian agrees. 'You don't want to discourage students from having something to work towards, but you need to make sure they're realistic,' she says. 'I would never pooh-pooh a student's desires. So I say, "Let's look at it. What is it? Who's on the jury? What are the requirements? Let's see the repertoire." It's not fair to forbid it without discussing it. If they've brought it up, they really want it. If I think they shouldn't enter I talk them through why – going through it in detail.'
Talking about a change of teacher
Another topic that can be awkward and embarrassing for teacher and student alike is the desire for a change of instructor – perhaps the student feels stuck or the teacher thinks the student isn't listening and applying their teaching. Either way, it is a hard conversation to have and to know when to have it.
Students who wish to change teachers often find it hard to articulate their feelings. 'In some cases people are too embarrassed to tell you they want to change teacher,' says American pedagogue Almita Vamos. 'A teacher is wise to make this easier for the student. As soon as I see any antsiness or desire to leave, I approach the topic so we can talk about it.' Kavafian agrees, 'It's important for people to understand that there are lots of different ways of doing things. It doesn't mean they're not a good student or that I'm a bad teacher. It just means we are looking for different things and that's OK.'
If a student wants to change, London Royal College of Music violin professor Itzhak Rashkovsky tries to get them to discuss why. 'I ask the student what isn't working. If they are unable to formulate an answer because they are embarrassed then I stop and wish them luck, and carry on.'
If a change is initiated because of a teacher's frustration with a student who doesn't accept their teaching methods or advice, often a period of discussion is required. Rashkovsky says, 'It's not a storm in the middle of a sunny day, it can take a year or longer sometimes. If a student isn't making progress, I warn them that I want to see change and a new kind of response. Then we regularly discuss and evaluate the situation.' Only if a student still doesn't improve will Rashkovsky suggest a change of teacher. 'It's always best to do this face to face,' he says. 'It's not a happy conversation but the decision has to be made.'
Appel takes a similar approach, addressing the problem directly. 'I say, "I've noticed things aren't going well. Is it because you don't like me? Do you not like the way I teach?" or in some cases, "I can tell that you don't like what I'm saying to you."' According to Appel, the student is 'over the moon' that their teacher has raised the problem – rather than them having to bring it up themselves.
Juilliard and Manhattan schools double bass teacher Orin O'Brien, on the other hand, has taken a slightly different approach to discussing a personality clash. When she feels she doesn't work well with particular students she says for instance: 'You need an extroverted teacher: I am an introverted teacher. I suggest you study with professor so-and-so,' rather than hurt their feelings by saying, 'I don't want to teach you because you are not listening to me and you are not capable of understanding what I am showing you.'

Top tips for tackling difficult topics with students
Each student is unique. Find the approach that suit