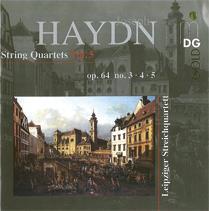 The Strad Issue: January 2010
Musicians: Daedalus Quartet
Composer: Haydn
Haydn's op.20 quartets come from a period when he was developing a more dramatic approach to the medium, and the American-based Daedalus Quartet reflect this in faithfully observing his dynamic markings, but without the exaggerations that are becoming too prevalent. If the players show a degree of urgency in the outer movements of no.1, their tempos throughout have an organic quality that allows the music to grow and flow in long and naturally shaped phrases, a fact that makes the opening Moderato of no.2 so engaging. They also seek every opportunity to bring out the humour in the music – the bustling outer movements of no.3 are particularly attractive in this respect.
But the slow movements are less than totally riveting, particularly that of no.3, where the players' otherwise immaculate intonation is sometimes questionable. By way of compensation, the sprightly cross-rhythms in the short zingarese minuet of no.4 and their stately approach to the same movement in no.5 are perfectly judged.
In no.6 they pull all their attributes together, with the unhurried slow movement sounding charming and the final fugue flitting around the players with that same immaculate balance they exhibit throughout the set.
Such unaffected and well-played readings, recorded in an intimate ambience, should demand attention, but they enter a crowded market, with the much recommended Mosaïques Quartet (Astrée Naïve) probing a little deeper below the music's surface and introducing a more imaginative expressive freedom.



DAVID DENTON