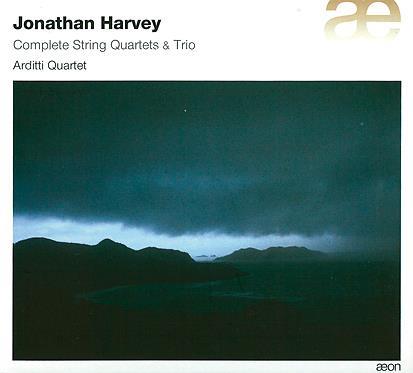 The Strad Issue: January 2009
Musicians: Arditti Quartet
Composer: Harvey
The music of the British composer Jonathan Harvey, who turned 70 this year, displays the clear influence of figures such as Stockhausen, Babbitt and Boulez in its complex, striving textures and unusual, restlessly changing playing techniques. Yet there's the clear sense that all this complexity is there to serve the greater purpose of communicating a transcendental message, one inspired by Harvey's immersion in religious mysticism and Buddhist beliefs. This message is clearly delivered in the exceptional performances from the Arditti Quartet on this spellbinding double-disc set of Harvey's four string quartets and string trio.
The First Quartet (1977), for example, spends its first few Scelsi-like moments meditating on a single D, finding drama and form in a myriad of subtle inflections and attacks. The Second Quartet (1988) seems to be playing out some kind of fundamental drama, with melodic fragments characterised as 'male' or 'female', 'hot' or 'cold', before a stratospheric cello line, movingly played by Lucas Fels, brings some kind of resolution. But it's in the Fourth Quartet (2003), which also uses live electronics, that the spiritual message is clearest. The work plots a journey through conflict and instability to a radiant concluding evocation of the 'paradise garden' where the soul is at rest, evoked in music of startling beauty and intensity that is given a luminous performance by the Arditti.
The quartet players are on superb form throughout, and although they tackle the music's fearsome technical demands without seeming to raise an eyebrow, what's really impressive is their engagement with the questing spirit of the music, and their communication of its mystical message. Irvine Arditti in particular often astonishes with his clarity and precision in the demanding first violin lines. Recorded sound is warm and generous throughout. Thoroughly recommended.



David Kettle