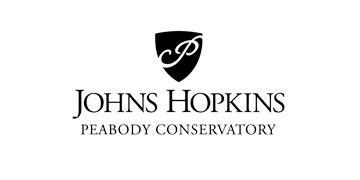 The Peabody Conservatory of the Johns Hopkins University in Baltimore, Maryland, invites nominations and applications for a full-time, artist faculty member in violin to begin August 2018.
Responsibilities will include building and maintaining a studio of undergraduate and graduate-level violin majors; maintaining international standing as a performing artist and teacher; collaborating with colleagues on departmental and artistic initiatives and activities; and teaching related subjects as appropriate. The successful candidate will contribute to the musical life of the Peabody Institute, including participating in recruitment, auditions, juries, and recitals; secondary responsibilities possible depending on applicant's area(s) of expertise.
Located in the heart of Baltimore's Mount Vernon Cultural District, the Peabody Institute was founded in 1857 as America's first academy of music. Today, through its degree-granting Conservatory and its community-based Preparatory music and dance school, Peabody trains musicians and dancers of every age and at every level. Each year Peabody stages almost 1000 major public concerts and performances. Peabody is one of the nine divisions that comprise the Johns Hopkins University.
A review of applications will begin in early October 2017, and will continue until the position is filled.
QUALIFICATIONS
The ideal candidate will be an exceptional artist and teacher with extensive experience as a soloist and/or with ensembles. Proven success in conservatory-level teaching is required.
APPLICATION INSTRUCTIONS
Applications must be submitted through InterFolio: https://apply.interfolio.com/44754
Johns Hopkins University is committed to active recruitment of a diverse faculty and student body. The University is an Affirmative Action/Equal Opportunity Employer of women, minorities, protected veterans, and individuals with disabilities and encourages applications from these and other protected group members. Consistent with the University's goals of achieving excellence in all areas, we will assess the comprehensive qualifications of each applicant.