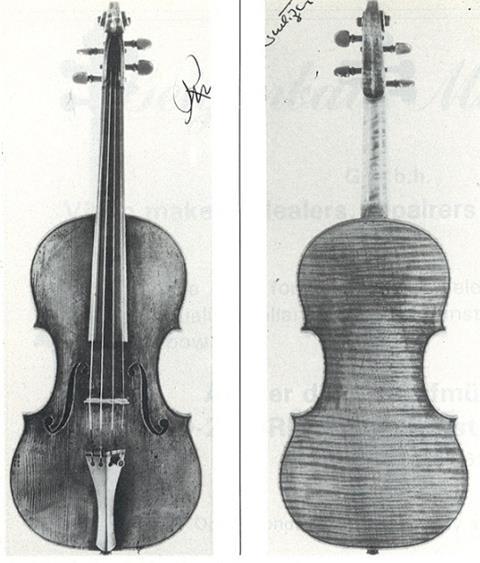 This illustration of an 1845 violin by J.B. Vuillaume was published in The Strad, January 1987. The following text is extracted from the article accompanying the photographs:
In 1925 Kreisler purchased from Hill's a copy of a 'del Gesù' made by J.B. Vuillaume circa 1845. Although the least 'distinguished' and most recent of the group of Kreisler's instruments mentioned here, it appears to have been one of his favourites. He kept it for 35 years, longer than any other instrument, as far as we know. He sold it in 1960 through Wurlitzer to Etienne Boegner, father of the current owner, Christian Boegner of New York.
Kreisler used the Vuillaume for his last Carnegie Hall concert in November 1947, and Joseph Hassid borrowed it to make his few recordings on the EMI label.
Charles Beare, of J&A Beare in London, tells of a 'del Gesù' sale unwittingly sabotaged by Kreisler and the Vuillaume. A Wurlitzer customer had nearly decided to purchase a 'del Gesù' offered by Wurlitzer, but returned it immediately after hearing Kreisler at a weekend concert. The customer told Wurlitzer that after hearing Kreisler play he realised that Kreisler's 1933 'del Gesù' was far superior to the one he was considering, and asked Wurlitzer to let him know when a better example came along. Wurlitzer subsequently mentioned the incident to Kreisler, who responded that for the concert in question he had not played the 'del Gesù'. The Wurlitzer instrument had lost to the Vuillaume - and to Kreisler's artisty!