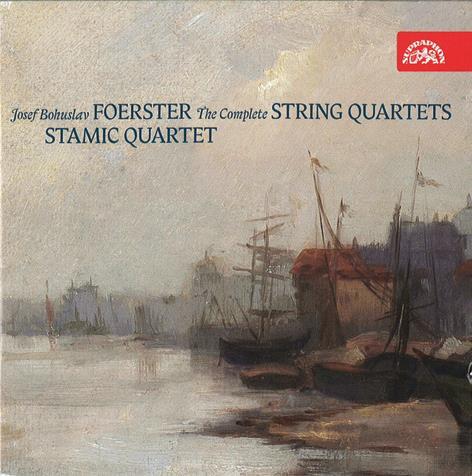 The Strad Issue: January 2010
Musicians: Stamic Quartet, Ji?í Hudec (double bass) Jana Boušková (harp)
Composer: Foerster
Josef Bohuslav Foerster (1859–1951) was born when musical Romanticism was being revitalised by the gradual emergence of a series of national schools, most crucially in Bohemia. By the end of his long life the musical world had changed beyond recognition and was poised to receive another shot in the arm from the postwar avant-garde. Foerster's first three quartets of 1888, 1893 and 1907 respectively are saturated by the combined influences of Smetana and Dvo?ák. Incredibly, although his own creative voice had well and truly emerged by the time he composed his Fourth (1944) and Fifth (1951) quartets, there is little here to suggest any awareness of the tonal meltdown of half a century before, let alone that Schoenberg, Bartók, Stravinsky or even Janá?ek had ever existed.
This is therefore a cycle that possesses an unusual degree of stylistic cohesion and the players of the Stamic Quartet rightly imbue the Fifth Quartet with the same qualities of tonal warmth, lyrical charm and gentle ecstasy that work so well for the First, composed over 60 years beforehand. In their highly sensitive hands, every phrase of this music rings true through a combination of tip-top intonation, exultant phasing and emotional imperativeness that effortlessly holds the attention. Even where, as in the sublime opening movement of the Fourth Quartet, the music's overtly lyrical impulse can lead to sense of structural diffuseness, the Stamic players beguile the ears with an exultant quality that makes each musical event feel like a vital inevitability. The engineering combines warmth, atmosphere and internal detail to perfection.



JULIAN HAYLOCK