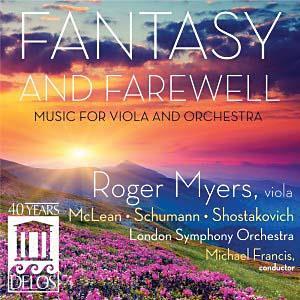 The Strad Issue: January 2014
Description: Three unrelated viola works performed with varying success
Musicians: Roger Myers (viola) London Symphony Orchestra/Michael Francis
Composer: McLean, Schumann, Shostakovich
Michael McLean's Suite for viola and orchestra was written in 2008 for Roger Myers at whose request the composer took Bach's chorale 'Befiehl du deine Wege' from the St Matthew Passion as his inspiration. It forms the basis of the last movement, which is conceived as a set of free variations after the fashion of Bach's own chorale preludes, but insinuates itself into the opening Prelude as well, making for a closely knit composition with a dark-sounding Passacaglia at its centre. Himself a violinist, McLean has a player's understanding of how best to present the viola in a solo role, and has written idiomatic passagework and sonorous cadenzas that Myers seizes gratefully, with consistently beautiful tone and unshakeable aplomb.
McLean's orchestration of Schumann's Märchenbilder is agreeably done, but the constant changes of the instrumental palette disturb the intimacy that has made the original one of the best-loved pieces in the repertoire. I kept wishing Myers were partnered by a first-class pianist, able to conjure at least as many colours from the keyboard alone.
Rather than just orchestrating the piano part of Shostakovich's Sonata, violist Vladimir Mendelssohn has redistributed the musical material between soloist and string orchestra. Myers adapts convincingly to his role as a primus inter pares and, despite some fidgety phrasing, this is a reading that packs a strong punch, aided by Delos's state-of-the-art recording.


Carlos María Solare