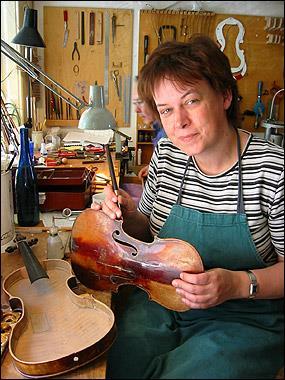 Danish violin maker and restorer Lise Ingeborg Jørgensen has died aged 51 following a long battle with cancer.
Jørgensen became interested in violins while at school, and at 19 began training at the Pauli Merling Violin workshop in Copenhagen under the guidance of maker and restorer Poul Erik Andersen. The following year, 1982, she was accepted into the Newark School of Violin Making in the UK, and on graduating she returned to Copenhagen to hone her skills at the Merling workshop.
She continued her career in Bremen at the workshop of Dietmar Machold where she worked under the guidance of Roger Hargrave and a team of international violin restorers. She later transferred to Zurich to open the company's branch there. After a year and a half she returned to Copenhagen to open her own practice in the city in 1990.
Friend and colleague Danish maker Jens Stenz described Jørgensen as a maker of the 'old school', when violin making was passed to the next generation through the workshop rather than the college system:
'She was lucky to have one year in the Merling workshop with Poul Erik Andersen, and it was his spirit that she passed on when she took students into her workshop,' he said. 'The making tradition in Denmark has been lost, and students must go to violin making schools to learn the trade, but Lise was one of the last makers to follow the tradition of passing on their knowledge and expertise by opening her workshop to young aspiring violin makers who needed her guidance to further their education. Her help and generosity opened many doors to young violin makers who are now running their own workshops.'
As a woman working in a male-dominated trade Jørgensen presented a rare sight, and many of the young aspiring makers she helped were also women.
'Lise was a rare talent and one of the quiet types of violin maker who did not go in for self promotion but instead concentrated on her craft and on serving her many customers,' said Stenz.
Subscribe to The Strad or download our digital edition as part of a 30-day free trial.