March 2018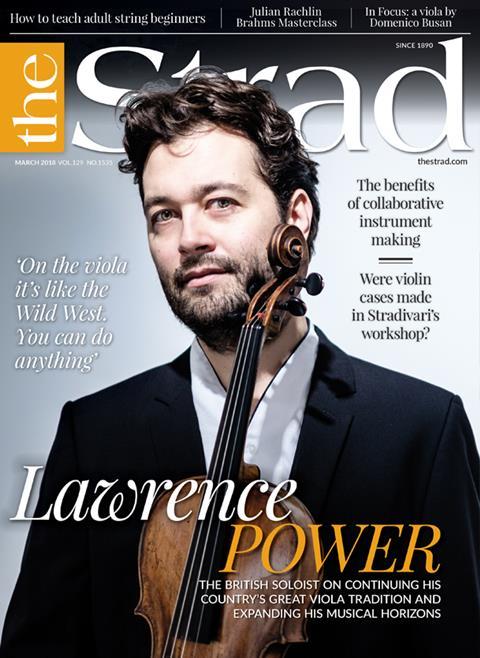 Viola player Lawrence Power talks about playing different instruments, good string teaching and why it's important to challenge conventional wisdom
Collaborative making: luthiers finding success in combining their talents
Examining the notions of the 'polyphonic performer' and the 'complete instrument' in contemporary music
How to overcome the challenges and reap the rewards of teaching adult beginners
Evidence from Stradivari's workshop that instrument cases were once made there
---
Life Lessons with the four string members of the Schubert Ensemble
Opinion: Why vibrato should never be overused
In Focus: A c.1776 viola by Domenico Busan
Trade Secrets: George Yu's method for clamping a centre joint
My Space: Ukrainian luthier Orest Putsentela
Making Matters: Why it can be useful to measure a piece of wood's density before carving
Masterclass: Julian Rachlin discusses the first two movements of Brahms's Viola Sonata no.1
Technique: Grigory Kalinovsky on achieving perfect articulation in the left hand
Sentimental Work: Jennifer Stumm on what Rebecca Clarke's Viola Sonata means to her
Plus receive extra content in your bumper digital edition
Read our interview with Lawrence Power, and then enter our online competition to WIN one of ten copies of his latest CD
In Ros Stephen's article on teaching adult beginners, try out the free exercises with downloadable backing tracks
Link straight to online content, such as Dimitri Musafia's 2008 article on Cremonese instrument cases
Watch a video of David Stromberg playing Helmut Lachenmann's 1969 Pression – which inspired Pwyll ap Siôn's article on performing complex music
And another video of Ilya Kaler demonstrating left-hand articulation, as referenced in Grigory Kalinovsky's Technique article
Plus, as ever, audio clips of the three recordings which earned our coveted 'The Strad Recommends' label
Do YOU have something to say about the new issue – or about the strings world generally? If so, why not email thestrad@thestrad.com with a Letter to the Editor? Don't forget, our Letter of the Month always receives a full set of Thomastik-Infeld violin, viola or cello strings – your choice!
SUBSCRIBE TO THE STRAD
Since its launch in 1890, the magazine has brought its readers the best features, comment and analysis on all issues of interest to string teachers, players, students, instrument makers and enthusiasts. Authoritative, trusted and influential, The Strad keeps readers informed about the latest news, ground-breaking research and techniques in all aspects of playing and making stringed instruments through its print and digital platforms.
Included in subscription:
Twelve issues delivered direct to your door
Two posters showcasing exemplary instruments from the great makers of the past
The Strad Directory: the essential guide for the string music industry, with global listings for businesses, artisans and organisations
String Courses: international short courses for players and makers
Degrees: a directory of courses for string players and teachers worldwide
Accessories: Reviews and features on essential items for your instrument case and workshop
MISSED AN ISSUE?
Download every recent edition of The Strad now (or click here to buy print copies)