October 2018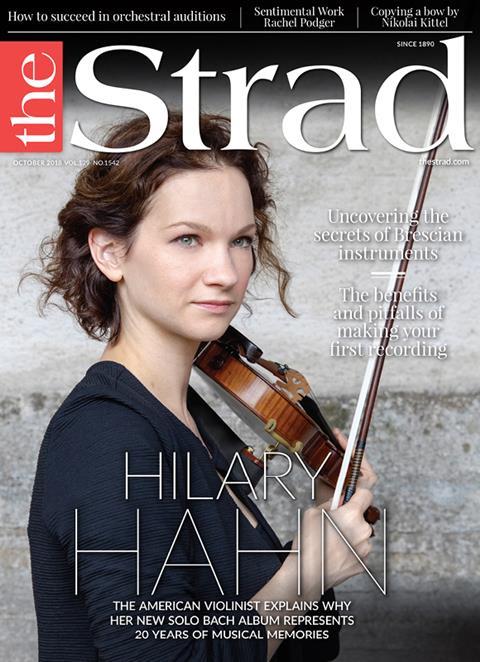 Hilary Hahn: The US violinist recorded her first disc of Bach when she was a teenager. Now, two decades on, she returns to complete the set
The parallel evolution of Brescian lutherie
The steep learning curve of recording a first album
Audition Perform: report from the week-long course
The Strad Calendar 2019: a closer look at twelve Stradivari
The Life Lessons of Irvine Arditti
In Focus: A violin from 1784 by the little-known Spanish luthier Vicente Assensio
Trade Secrets: Stefan Lindholm on using a flat gouge
My Space: Double bass maker Sergio Scaramelli
Making Matters: Copying a Nikolai Kittel at the 2018 Oberlin Bow Making Workshop
Life Lessons: The memories and opinions of British violinist Irvine Arditti
Opinion: String culture must evolve or die
Postcard from Ludwigslust: Jeff Bradetich reports from the Double Bass Competition
Postcard from Switzerland: The 25th anniversary of the Verbier Festival
Masterclass: Edicson Ruiz discusses the Dittersdorf Double Bass Concerto
Technique: Violist Jacob Adams gives useful tips regarding bow speed and distribution
Sentimental Work: Rachel Podger on what Bach's Violin Concerto in E minor means to her
–
In this month'sdigital edition:
View more photos of our in Focus instrument, a very rare violin by Spanish luthier Vicente Assensio, including close-ups and unusual angles
More photos of instruments from Brescia, including basses by Zanetto Micheli and Gasparo da Salò
Extra images from the special tribute concert to Leonard Bernstein, featuring Midori, Yo-Yo Ma and John Williams, which took place on the 100th anniversary of the composer's birth
Verbier 25: another special gala concert in which 25 top string stars performed on stage together for the first time
More from this year's Oberlin bow making workshop, where the group project was to make copies of a Nikolai Kittel bow
And of course, audio clips from the three recordings this month which earned a 'The Strad Recommends' sticker
Do YOU have something to say about the new issue – or about the strings world generally? For your chance to win a bundle of premium accessories, send letters to the editor at thestrad@thestrad.com.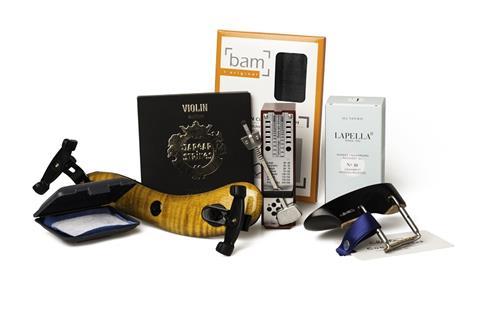 Letter of the Month wins:
Stretto Humidifier
VLM-Augustin Diamond Shoulder Rest (violin or viola)
Wittner Super Mini Taktell Metronome
Jargar Superior String set (violin, viola or cello)
BAM Cleaning Cloth
Götz New Flesch Chinrest with titanium screws (violin or viola)
Lapella Fingerboard Oil
SUBSCRIBE TO THE STRAD
Since its launch in 1890, the magazine has brought its readers the best features, comment and analysis on all issues of interest to string teachers, players, students, instrument makers and enthusiasts. Authoritative, trusted and influential, The Strad keeps readers informed about the latest news, ground-breaking research and techniques in all aspects of playing and making stringed instruments through its print and digital platforms.
Included in subscription:
Twelve issues delivered direct to your door
Two posters showcasing exemplary instruments from the great makers of the past
The Strad Directory: the essential guide for the string music industry, with global listings for businesses, artisans and organisations
String Courses: international short courses for players and makers
Degrees: a directory of courses for string players and teachers worldwide
Accessories: Reviews and features on essential items for your instrument case and workshop
MISSED AN ISSUE?
Download every recent edition of The Strad now
Stradivari's brilliant red varnishes
conservatoire auditions
Gingold, Heifetz and Galamian
The record-breaking c.1773 'Sinzheimer' violin by G.B. Guadagnini
A jig for arching corrections
Russian-born luthier Yuri Pochekin
Steve Rossow's various techniques for teaching violin making
Australian violist and composer Brett Dean
British cellist Guy Johnston discusses Mendelssohn's Variations op.17
gives his ingenious strategies for functional fingering
explains his love for Myaskovsky's 1944-5 Cello Concerto