November 2018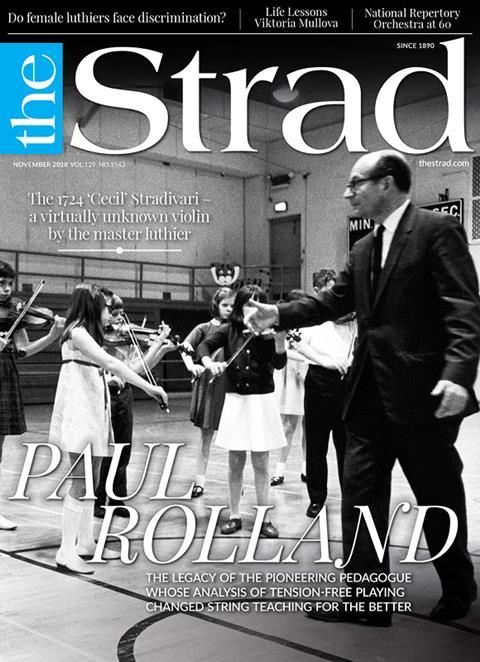 Paul Rolland: Examining the legacy of a great American violin pedagogue forty years after his death
The 1724 'Cecil' Stradivari violin
The struggles of female luthiers in a male-dominated business
The Colorado-based National Repertory Orchestra at 60
Cecilia Zilliacus recording the Brahms concerto
William Kroll beyond Banjo and Fiddle
Postcards from the International Violin Competition of Indianapolis and the Aspen Music Festival
In Focus: A 1588 violin by Antonio Amati
Trade Secrets: David Polstein offers a new method for resawing rib stock
My Space: Yonkers-based luthier Ron Fletcher
Making Matters: John Simmers on using antiquing methods to give an instrument a feeling of warmth
Life Lessons: The memories and opinions of Russian violinist Viktoria Mullova
Opinion: Artists making MTV-style videos
Postcard from Indiana: The International Violin Competition of Indianapolis
Postcard from Colorado: Report from the Aspen Music Festival
Masterclass: Carolin Widmann discusses Schumann's Violin Sonata no.2 in D minor
Technique: Violin pedagogue Marianne Piketty hands on hints and tips on playingmartelé
Sentimental Work: James Ehnes on his relationship with Beethoven's Violin Concerto
–
In this month's digital edition:
Get up close and personal with the 1724 'Cecil' Stradivari and our In focus instrument, a 1588 Antonio Amati – including extra images not seen in the print magazine
More from the tour of New York luthier Ron Fletcher's workshop in My Space
Extra photos from the International Violin Competition of Indianapolis, including images of all six finalists
More from the Aspen Music Festival, the subject of this month's Postcard from Colorado
And of course, audio clips from our three 'The Strad Recommends' recordings this month
PLUS: Every single weblink, including the advertisements, is now live – tap straight to your favourite online content
The digital magazine and print edition are on sale now.
Do YOU have something to say about the new issue – or about the strings world generally? Send letters to the editor at thestrad@thestrad.com.
SUBSCRIBE TO THE STRAD
Since its launch in 1890, the magazine has brought its readers the best features, comment and analysis on all issues of interest to string teachers, players, students, instrument makers and enthusiasts. Authoritative, trusted and influential, The Strad keeps readers informed about the latest news, ground-breaking research and techniques in all aspects of playing and making stringed instruments through its print and digital platforms.
Included in subscription:
Twelve issues delivered direct to your door
Two posters showcasing exemplary instruments from the great makers of the past
The Strad Directory: the essential guide for the string music industry, with global listings for businesses, artisans and organisations
String Courses: international short courses for players and makers
Degrees: a directory of courses for string players and teachers worldwide
Accessories: Reviews and features on essential items for your instrument case and workshop
MISSED AN ISSUE?
Download every recent edition of The Strad now
Stradivari's brilliant red varnishes
conservatoire auditions
Gingold, Heifetz and Galamian
The record-breaking c.1773 'Sinzheimer' violin by G.B. Guadagnini
A jig for arching corrections
Russian-born luthier Yuri Pochekin
Steve Rossow's various techniques for teaching violin making
Australian violist and composer Brett Dean
British cellist Guy Johnston discusses Mendelssohn's Variations op.17
gives his ingenious strategies for functional fingering
explains his love for Myaskovsky's 1944-5 Cello Concerto