February 2019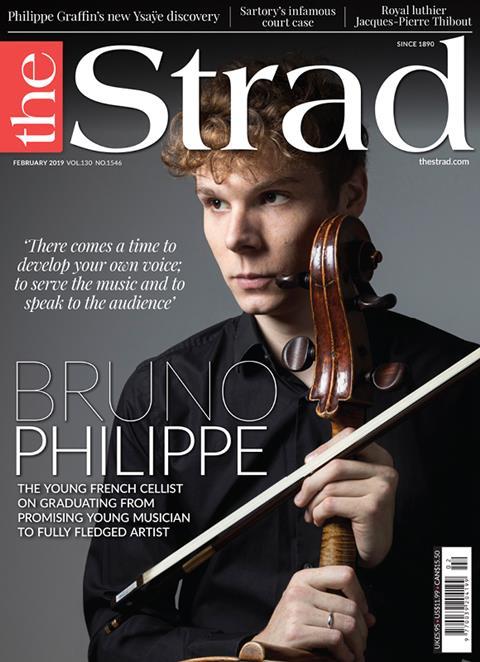 Bruno Philippe: The young French cellist, releasing his first album as an official Harmonia Mundi artist, talks gut strings, competitions, and the pros and cons of old and new instruments
Jacques-Pierre Thibout: His evolution through ten instruments
Session Report: Leila Josefowicz on Bernd Alois Zimmermann's Violin Concerto
Eugène Sartory: the story of a long court case over imitations
Philippe Graffin on discovering a lost Ysaÿe Sonata
What makes South Korean violinists so successful in competitions?
In Focus: Roland Baumgartner examines an 1893 violin by Gustave Bernardel
Trade Secrets: Nicolas Gilles's detailed and intricate method for making oil varnish
My Space: Noémie Viaud, a French luthier now living and working in Denmarklatt
Making Matters: Geerten Verberkmoes on the unusual techniques of the French maker Boussu
Life Lessons: The thoughts, opinions and wisdom of double bassist François Rabbath
Postcard from China: The Shanghai Conservatory of Music's Viva la Viola festival
Masterclass: Daniel Hope on the second movement of the Franck Violin Sonata
Technique: Double bassist Alex Henery gives tips on controlling left-hand finger pressure
Sentimental Work: Gautier Capuçon on his love for Schumann's cello and piano works
In this month's bumper digital edition:
Auctions: View front and back images of some of the top instruments sold at last year's London sales
Bruno Philippe: enjoy clips from the French cellist's latest CD of Rachmaninoff and Myaskovsky while reading what he has to say about them
Eugène Sartory: documents from the notorious court case, including the certificates Sartory produced to prove his claims
Philippe Graffin: clips from the version of Ysaÿe's Sixth Violin Sonata, recently uncovered and recorded by the French violinist
In Focus: more from this month's featured instrument, an 1893 violin by Gustave Bernardel
From the Archive: female violinists demonstrate the latest fashions, to accompany an article from 1919
More from the Polish concert at Carnegie Hall, where three string quartets joined forces to celebrate the country's Independence Da
And of course, hear snippets of the three recordings which earned this month's 'The Strad Recommends' labels
The digital magazine and print edition are on sale now
Do YOU have something to say about the new issue – or about the strings world generally? Send letters to the editor at thestrad@thestrad.com.
SUBSCRIBE TO THE STRAD
Since its launch in 1890, the magazine has brought its readers the best features, comment and analysis on all issues of interest to string teachers, players, students, instrument makers and enthusiasts. Authoritative, trusted and influential, The Strad keeps readers informed about the latest news, ground-breaking research and techniques in all aspects of playing and making stringed instruments through its print and digital platforms.
Included in subscription:
Twelve issues delivered direct to your door
Two posters showcasing exemplary instruments from the great makers of the past
The Strad Directory: the essential guide for the string music industry, with global listings for businesses, artisans and organisations
String Courses: international short courses for players and makers
Degrees: a directory of courses for string players and teachers worldwide
Accessories: Reviews and features on essential items for your instrument case and workshop

Subscribe Now
MISSED AN ISSUE?
Download every recent edition of The Strad now