May 2018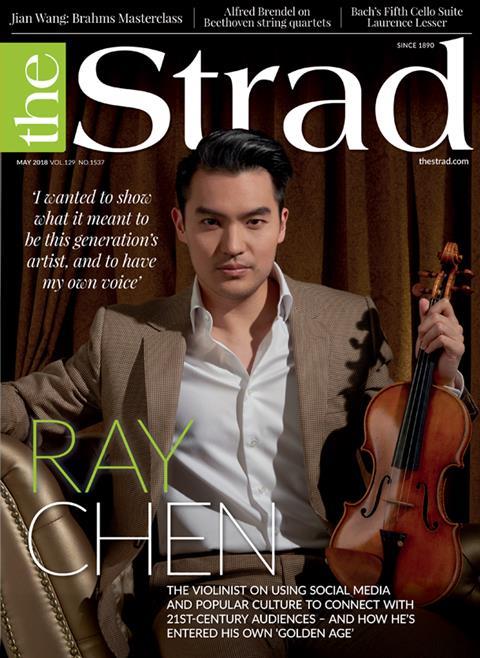 Violinist Ray Chen on the importance of social media and popular culture in encouraging a new generation of players

The 'Vieuxtemps' Guarneri 'Del Gesù': part one of an in-depth study

Quartet coaching with Alfred Brendel

Laurence Lesser on what cellists can learn from the lute version of Bach's Fifth Suite

Decoding the old Italian ventral pin with Yann Poulain
---
In Focus: A c.1798 violin by Matthew Hardie
Trade Secrets: Stacey Styles's method for maintaining a cello top arch
My Space: The workshop of Australian luthier Benedict Puglisi
Making Matters: Luthier Gregg Alf pens an open letter to Jean-Baptiste Vuillaume
Life Lessons US violinist Leila Josefowicz
Opinion: How useful are warm-up regimes?
Masterclass: Jian Wang on the second and third movements of Brahms's Cello Sonata no.2
Technique: Flexibility in the left-hand thumb
Sentimental Work: Raphael Wallfisch reveals why he champions Finzi's Cello Concerto
–
Plus in your bumper 160-page digital edition…
Extra photos of Ray Chen's 1715 'Joachim' Stradivari, including front, back and scroll close-ups, plus a chance to enter the competition to WIN one of five autographed copies of his latest CD
More from the Sommets Musicaux Festival and the Amsterdam String Quartet Biennale, the subjects of this month's two Postcards
My Space: images from Australian double bass specialist Benedict Puglisi's workshop
In Focus: close-ups of this month's featured instrument, a c.1798 violin by Matthew Hardie
Recordings: as ever, clips from the three CDs graced with the coveted favour 'The Strad Recommends'
Plus Degrees 2018-19: your essential 60-page guide to courses at universities and conservatoires around the world.
Do YOU have something to say about the new issue – or about the strings world generally? For your chance to win a bundle of premium accessories, send letters to the editor at thestrad@thestrad.com.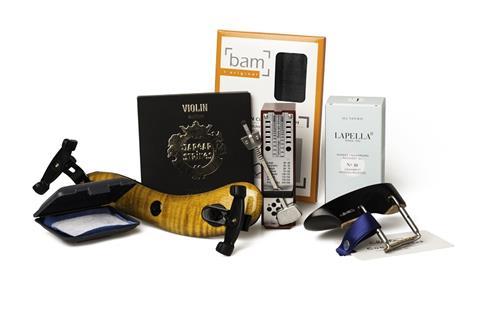 Letter of the Month wins:
Stretto Humidifier
VLM-Augustin Diamond Shoulder Rest (violin or viola)
Wittner Super Mini Taktell Metronome
Jargar Superior String set (violin, viola or cello)
BAM Cleaning Cloth
Götz New Flesch Chinrest with titanium screws (violin or viola)
Lapella Fingerboard Oil
SUBSCRIBE TO THE STRAD
Since its launch in 1890, the magazine has brought its readers the best features, comment and analysis on all issues of interest to string teachers, players, students, instrument makers and enthusiasts. Authoritative, trusted and influential, The Strad keeps readers informed about the latest news, ground-breaking research and techniques in all aspects of playing and making stringed instruments through its print and digital platforms.
Included in subscription:
Twelve issues delivered direct to your door
Two posters showcasing exemplary instruments from the great makers of the past
The Strad Directory: the essential guide for the string music industry, with global listings for businesses, artisans and organisations
String Courses: international short courses for players and makers
Degrees: a directory of courses for string players and teachers worldwide
Accessories: Reviews and features on essential items for your instrument case and workshop