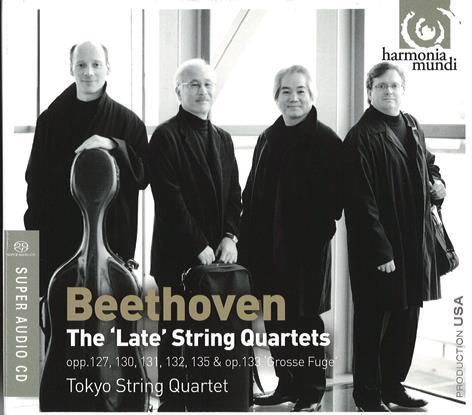 The Strad Issue: January 2010
Musicians: Tokyo Quartet
Composer: Beethoven
A quotation from the Boston Globe on the back of this new set of the Tokyo Quartet's Beethoven recordings comments that they are 'both grounded and weightless, carved in granite and floating on air'. Certainly, we are spared an interpretation here that seeks to promote Beethoven as a modernist at the expense of Classical poise or Romantic poignancy (as in the beautifully rendered Cavatina of op.130, which presages Mendelssohn's writing). The stylistic versatility of the Tokyo Quartet's performances brings out the humanity and humour as much as the starkness of these seminal works and it is good that an ensemble with its roots in the teaching of the Juilliard School (where founder members Kikeui Ikeda and Kazuhide Isomura were students after beginning their training under Hideo Saito in Tokyo) is spared the rather saccharine tone that characterises the playing of some of its alumni.
There is an objectivity here as well, however, which is not always a good thing. The ensemble maintains very stable tempos and a level of accuracy that can cause some of the more recitative-like passages to sound constricted, as in the Adagio ma non troppo e semplice of op.131. And these discs are not flawless, although Harmonia Mundi has engineered them with consummate professionalism. While the slightly flaky aspirated slurs in the first movement of op.127 will be a matter of taste, the rather indistinct and tremulous viola tone in the first movement of op.135 sounds too speculative and some of the intonation in the Adagio ma non troppo tratto movement of op.135 leaves something to be desired.
Overall, however, the range of colour (including a Grosse Fugue that balances fire with equanimity) makes this a fine release, which I endorse wholeheartedly.



David Milsom