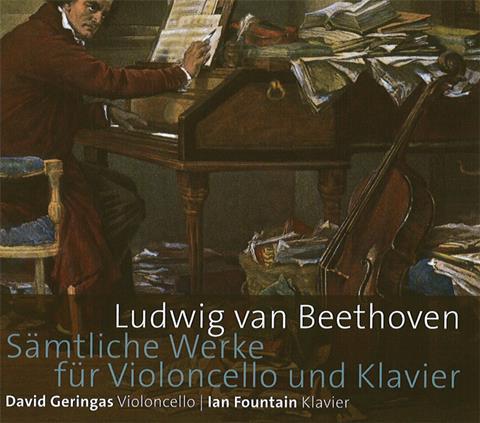 THE STRAD RECOMMENDS
The Strad Issue: January 2011
Description: A compelling collection of Beethoven's complete music for cello and piano
Musicians: David Geringas (cello) Ian Fountain (piano)
Composer: Beethoven
David Geringas's performances of the Beethoven cello sonatas reveal exceptional attention to detail and a sure sense of structural architecture. Part of his success with the minutiae comes from ensuring that each note has a dynamic range and colour that reflect a transient gesture, yet are still part of the overall picture. This is beautifully effected in the Adagio of the D major Sonata op.102 no.2, which is contrastingly followed by a tightly woven fugue where the voices are astutely balanced to reflect the structure.
There is some controversy as to who exactly penned the op.64 arrangement for piano and cello of the op.3 string trio. This version simply transfers the viola and violin parts to the piano, whereas one might have expected Beethoven himself to have been more inventive in his transcription. Whatever its provenance, the charming divertimento-like invention remains undimmed and is again delivered with consummate musical characterisation by Geringas and Ian Fountain, with cello and piano enjoying a happy dialogue in a clear recording.
The 'Bei Männern' Variations also reflect these qualities, with the slow movements beautifully controlled and poetic, and the cantabile lines always impressively matched. Equally, in the Judus Maccabaeus cameos, these artists have managed to contrive a clear balance in the conversation between the two instruments. Geringas proffers a wide range of bowing techniques, while Fountain's brilliant timbre in the piano right-hand means that the keyboard instrument never suffocates the cello line. Again, the range of dynamics and observant phrasing contribute to a compelling depiction of different moods, making this a most desirable release.
Joanne Talbot