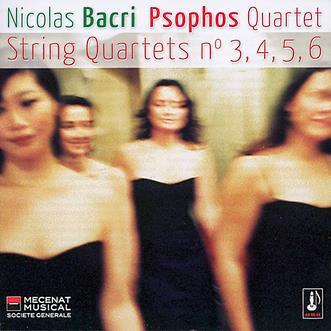 THE STRAD RECOMMENDS
The Strad Issue: January 2008
Musicians: Psophos Quartet
Composer: Bacri
Born in France in 1961, Nicolas Bacri has plowed a lone furrow that has assiduously avoided allegiance to any current group of composers. Moving easily between tonality and atonality, the music is undoubtedly of our time, yet can be viewed as a historical continuation from Bartók. The present disc covers the 16 years from 1989, and presents Bacri's rich store of tonal colours and interesting rhythmic patterns that offer the newcomer a key to unlocking his musical world.
Played in reverse order of composition, the works present a formidable technical challenge to the young French-based Psophos Quartet, particularly the Sixth Quartet, in which the music dashes around the instruments in a feverish state of emotional anxiety. By contrast, the Fifth Quartet is often slow moving, the long flowing lines of the second movement and final Passacaglia relying on slight variants of quiet dynamics.
The Fifth uses Beethoven's Grosse Fuge as its starting point, with quotations from the original embodied within its physically powerful frame, and the work's conclusion foreshadows the end of time. It is very different from the disturbing harmonies that pervade the Third Quartet, written in memory of Zemlinsky.
Accuracy of intonation is at times open to question, but the deep commitment of the Psophos players cannot be doubted, as they hurl themselves into the frenetic moments; nor can their ability to create beauty in static passages be in any doubt – here the solo instruments show individual excellence. The recording is clean and clinical in texture and balance.
DAVID DENTON