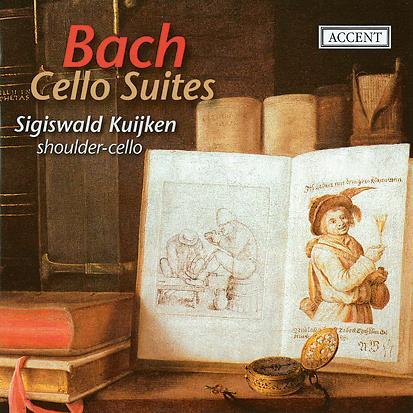 The Strad Issue: January 2009
Musicians: Sigiswald Kuijken (shoulder cello)
Composer: Bach
Sigiswald Kuijken decided some years ago that the instrument for which Bach wrote his cello suites was neither the instrument we know today nor the viola pomposa he is sometimes credited with inventing, but a violoncello da spalla or shoulder cello. Dmitry Badiarov made him one, and he has been playing it since 2004. He lays out his reasoning behind this appropriation of some of the most hallowed works in the (modern?) cello repertoire in an essay in the CD booklet, where he points out that there is no evidence that Bach was thinking of an instrument played between the legs.
The violoncello da spalla in Kuijken's hands can sound beautiful and sometimes rich on its lower strings, particularly in this recording's generous acoustic, but it also sounds rather scratchy, especially in more agile passages where it seems as if the strings are reluctant to speak. Kuijken plays, needless to say, with immense authority and a mature musicality that brings so many good things from the music. There is a vitality and lightness in his playing, particularly of the faster dances, and the spirituality of the slow movements emerges naturally: it is refreshing to hear an artist who leaves Bach to speak for himself.
Unfortunately, despite all the details of the instrument in the booklet, there is no mention of the special needs of the last two suites. However, the photographs show a fifth peg, and it sounds as if Kuijken is using Bach's scordatura in the fifth suite and a top E string in the sixth.


TIM HOMFRAY