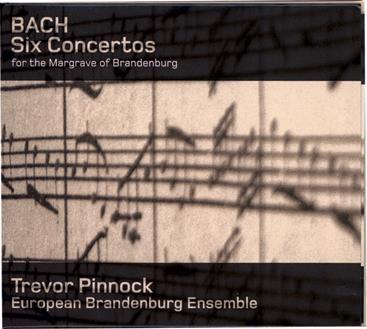 THE STRAD RECOMMENDS
The Strad Issue: January 2008
Musicians: European Brandenburg Ensemble, Trevor Pinnock (harpsichord/director)
Composer: Bach
If you haven't heard of the European Brandenburg Ensemble before, that's because this is its first recording, and hopefully not the last. Trevor Pinnock has gathered around him some of the finest of Europe's Baroque musicians to play the concertos that Bach (as ever, in search of a better job), dedicated to the eponymous Marquis, and to celebrate his own sixtieth birthday. The outsize cadenza to no.5 shows that Pinnock the harpsichordist certainly still makes the cut. He takes his time to articulate each episode, and in so doing builds a sense of unstoppable excitement towards its torrential climax.
Common to all six, very different concertos are an agile, expressive and prominent continuo bass, and superbly judged balance, within both ensemble and engineering. Every single tempo feels right: for the character of the music, its harmonic details and melodic drive, and the felicitous virtuosity of its performers – most notably the leader Kati Debretzeni in her improvised extension to the interludial cadence of no.3 and the much more demanding solo parts of nos.4 and 5. There are quicker recordings of no.2, but very few that truly place the trumpet within a chamber ensemble. The moto perpetuo finale of no.3 is almost as swift as Reinhard Goebel's iconoclastic recording on Archiv, but so much less hard-driven, so much more joyous.
My own highlights are the poised, poetically 'bent' tuning and phrasing in the slow movement of no.1, and the opulent, viola-led canonic imitation in the opening of no.6; but you are bound to have your own. The set as a whole is a landmark in how far period-instrument recordings have come in the last half-century, and (hostage to fortune time) I have no hesitation in recommending it as the finest now available.
Peter Quantrill