Violinist and professor Rodney Friend argues that music colleges are admitting too many students in the first place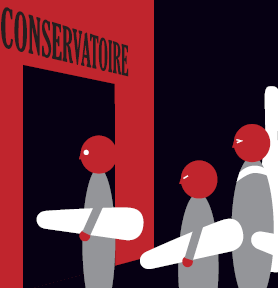 The future for the next generation of string players is a serious and delicate problem, and it must be examined and addressed with absolute honesty and a strong sense of reality. Therefore, it is the duty of all teachers and institutions to make it clear to young players that the music profession will only cater for, and offer an adequate lifestyle to, three levels of players. In simple terms, these three levels can be categorised as follows: the Exceptional, the Highly Gifted and the Gifted. If a student does not fit into one of these categories, there is very little chance of an acceptable future for them as a player. Therefore, all who teach and all who are in charge of conservatoires are morally obliged to be totally honest in their selection of those who qualify as being of the correct level to participate without worry in the real music world. On many occasions throughout my career, however, I have found this moral obligation to be compromised to a degree that is neither acceptable nor fair, to the extent that I have been forced to ask myself whether the system prioritises the student, the teacher or the establishment.
THREE LEVELS OF STUDENTS
1. The Exceptional. The very few who belong in this group will have played and performed with prodigious flair at a very young age. They will have been allowed to develop their natural talents with flexibility and freedom. They are the very rare, very seldom encountered players who enter the world stage equipped with all the necessary qualities: individuality, artistic integrity, technical ease and character, plus the ability to practise with complete concentration and perform from memory under extreme pressure, oblivious to all except the music. Even as a juror at the great violin competitions of Indianapolis and Montreal in the last twelve months, I have heard only a handful of players from the international elite who belong in this group. I have observed them with fascination and carefully discussed with colleagues why these few are able to display their art with such freedom. They study with understanding and knowledgeable teachers, who know what to leave alone, and they will not have been bogged down in calculated repeating systems designed to benefit only the pedagogue. They will have received fine guidance from selfless artists, with whom they will have felt a chemistry, and then they will have been left alone to follow their own paths in search of their true identities.
2. The Highly Gifted. These are players who are extremely talented and have an ability to practise with consistency and critical involvement. However, they will be missing one or more of the required qualities possessed by the Exceptional. This group represents the backbone of our profession and, because of their performing skills and characters, these players will achieve fulfilment and success in a mixture of activities – solo playing, positions within great orchestras, chamber music and important teaching posts. It is players in this group who require the most guidance during preparation for their entry into the profession, and they must be dealt with by only the most experienced and successful advisors. In truth, these young performers will already be showing their finest qualities at their time of entry into high-level conservatoires, and they should know that it is they who are in positions of power: it is their presence that will be sought after and competed for by all teachers and schools. This transition is not without danger, since it is arguably the most crucial moment in their development, and it should closely involve the source of influence that steered and cared for them until this time. An incorrect or suspect move into the unknown at this point will continue to destroy natural talent.
3. The Gifted. This is the group of players who, depending on a realistic level of expectation, will find employment and fulfilment with orchestras and music schools of varying levels other than world-class. It is in these areas that the greatest opportunities exist, and to achieve success here will always be applauded and respected by the profession as a triumph of dedication, effort and skill. Perhaps the largest percentage of places in most conservatoires and music schools are occupied by players of this group. I believe, and have personally witnessed, that their destiny is not always addressed by faculty members with first-hand knowledge of the necessary disciplines. This group must be taught by experts of tested experience what to expect in the music world, and how to deal with the standards required by future employers. Tragically, many of these young people leave conservatoires unprepared and unaware of the difficulties that lie ahead.
HOW TEACHERS CAN HELP
Do established conservatoires accept only students who will find solid and secure futures? Are the sacrifice and expense borne by students and their parents being attended to with total honesty? Or is there simply a need to fill conservatoire places in order to fund the institutions? Do our future players leave their places of study with a polished and understood repertoire in the desired disciplines? My experience tells me that many do not, and that as a result they become disillusioned and frustrated through no fault of their own, eventually leaving the music world in search of a less stressful and more satisfactory alternative.
Young players must be given an honest perspective on the required level necessary for entry into the profession, and a caring guarantee that their schooling has been dealt with by trusted teachers and advisors who know from experience what actually happens when students bid farewell to a conservatoire, armed only with an instrument and a rarely asked-for diploma. Many established players who nurture and support future performers will be in agreement that some positions of influence are held by administrators and teachers who, through their own lack of awareness, create problems rather than solving them.
How can the powers that be correct these flaws? With careful planning, it should be possible to combine the constructive approaches being used at successful schools, in order to eliminate much of the distress and failure being caused by less aware institutions. Unquestionably, the element that is most problematic for string players is the symphony orchestra, around which first-study lessons, a regular practice routine and chamber music activity are all often forced to take second place. Given that the majority of students will go into orchestras, the correct study of orchestral discipline, undertaken with enthusiasm and joy, is vital; but it must be scheduled with a clear artistic vision and take second place to first-study lessons and individual work. It is not the responsibility of exceptional young players to prop up other students and second-rate conductors in under-rehearsed, over-ambitious programmes. We should therefore be highly critical as to what is wrong.
HOW TO MAKE ORCHESTRAL REHEARSALS WORK
Most orchestral rehearsals take place throughout the day, ad hoc. I do not understand why they cannot take place between 5pm and 7pm, three or even four times per week, and without a break, so as to leave time for serious individual work during the day. Performing great orchestral works with accuracy, rhythm and sonority is extremely difficult, so no more than one symphony concert should take place during any two-month period. The scheduling can actually be very simple. The first two weeks should involve twelve hours of detailed sectional rehearsals under the direction of carefully chosen professional concertmasters and section leaders who can demonstrate the literature with skill and knowledge. Weeks three and four should contain twelve hours with the full string complement under the same directors. After these four weeks of tuition and private practice, every player should be able to perform alone any requested passage from the prepared works in the presence of their colleagues – this is an absolute must, and it will prepare the student for and it will prepare the student for future auditions. In weeks five and six, winds, brass and percussion players should combine with the strings as a full symphony orchestra, under the direction of a respected professional musician. Weeks seven and eight should involve twelve hours of playing, including the concert, with a leading international conductor.
In North America, Paris, Germany, Japan and Korea, I have witnessed schools with fine systems of instrumental and orchestral tuition. Every week, students prepare scales and studies with carefully chosen assistants, plus repertoire and technique with their main professors (always with an accompanist in attendance). Chamber music could be dealt with using a similar system for those with that particular career in their sights. Written work should not interfere with or block instrumental preparation. It is only a question of priorities and scheduling to get this balance right.
What will be the rate of success for future players? The three groups discussed should have trouble-free and successful careers, experiencing through their talent and dedication much of the joy and the privileges offered by the music world. However, this success will depend very much on a carefully developed character, an undamaged natural gift, and a technical grounding that will stand firm throughout a long career.
This article was first published in The Strad's April 2011 issue.